Take your car and discover the hidden spots!
KEY DETAILS
LIVE GUIDE: English, French, Spanish, Basque
INSTANT CONFIRMATION


WHAT YOU´LL DO
Take advantage of this tour and discover the hidden spots in the Basque Country
Day 1: Bilbao - Leketio
Day 2: Lekeitio - Zarautz

Day 3: Zarautz - Donostia

Day 4: Donostia - Gasteiz

Day 5: Gasteiz - Laguardia

Day 6: Laguardia - Orduña

Day 7: Orduña - Bilbao
WHAT TO EXPECT
Stage 1 - FROM BILBAO TO LEKEITIO
We'll start with titanium armour and finish before an idyllic island. How's that possible? Read on...
You've got a date with water. You'll find it next to the Guggenheim Museum in Bilbao, you'll follow it until you reach a transporter bridge which is unique in the world, and you won't lose sight of it all day. You'll see it lapping on beaches, dancing around islands, crashing into wild cliffs, surrounding fishing villages and outlining impossible rivers. Welcome to the Bizkaia of the Cantabrian Sea.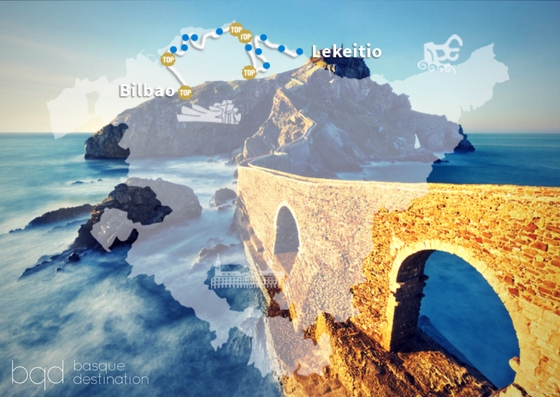 TOP PLACES
Bilbao
Portugalete's Bizkaia Transporter Bridge
Hermitage of San Juan de Gaztelugatxe
The Assembly House
Urdaibai, Biosphere Reserve
DISTANCE: 111,3 km.
APPROXIMATE DRIVING TIME: 3h. approx.
Stage 2 - FROM LEKEITIO TO ZARAUTZ
What's on the menu? Fishing villages and delicious grilled fish. And for dessert? A (gigantic) baroque sanctuary nestled in the mountains.
Ready to flirt with the green Basque Country? The mountainous Basque Country, the Basque Country that is hidden in the folds of the valleys, the Basque Country of lonely farmsteads. Let's go. First, you'll see the dawn over the Cantabrian sea, you're sure to have lunch in a valley, that of the Urola river, hidden between mountains and, finally, you'll have dinner near a hill shaped like a mouse.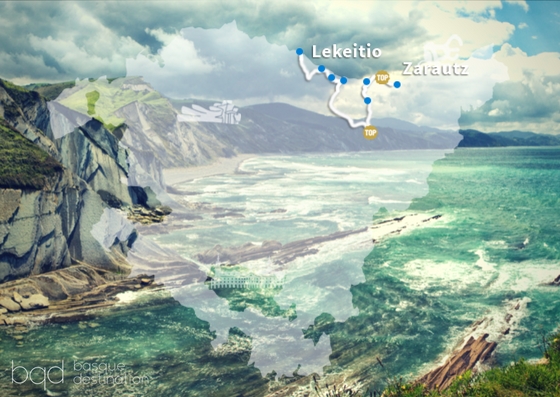 TOP PLACES
The Sanctuary of Loyola
Cristobal Balenciaga Museum
DISTANCE: 86,5 km.
APPROXIMATE DRIVING TIME: 2h. approx.
Stage 3 - FROM ZARAUTZ TO SAN SEBASTIÁN
Also today, we will stay by the sea. And we will visit locations recognised by the New York Times. And a place reminiscent of Venice. And some touches of the Basque grasslands.
You're in Gipuzkoa. You'll know it because of the smell of fresh fish cooking on charcoal grills, the traces left by the Romans 2000 years ago, a town whose pintxos caused the New York Times to fall in love and another town that looks like Venice but is enclosed by a fjord. Yes, you're in Gipuzkoa, in the land of the famous Bella Easo and La Concha beach that everyone longs for.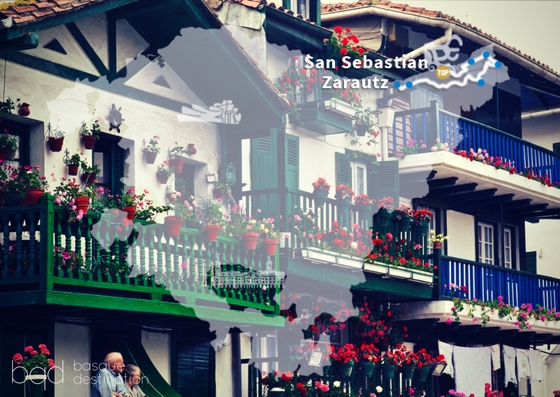 TOP PLACES
DISTANCE: 87 kms.
APPROXIMATE DRIVING TIME: 2h. approx.
Stage 4 - FROM SAN SEBASTIÁN TO VITORIA-GASTEIZ
"Txotx!", "sagardoa", "babarrunak", "gazta"… edible Basque words that we'll hear today... but what do they mean?
In the Basque Country, "gero arte" means "see you later". Therefore, say "gero arte" to the sea because you're heading to the Basque Country seen on postcards, that of the meadows and beech forests, that of cider houses and raised glasses. You'll be lucky enough to meet a majestic mountain called Txindoki, a couple of medieval towns and perhaps even a hundred-year-old market. The finishing line is Vitoria-Gasteiz, the "green" city.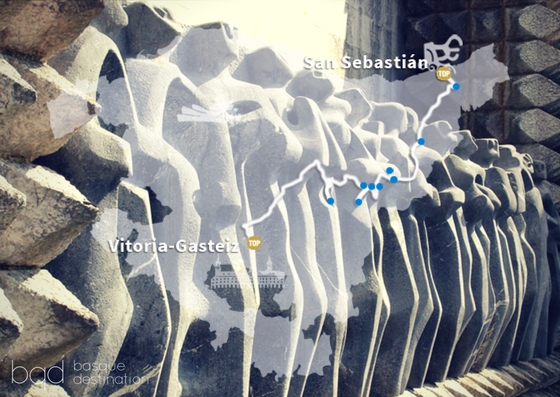 TOP PLACES
Donostia / San Sebastián
Vitoria-Gasteiz
DISTANCE: 170,5 kms.
APPROXIMATE DRIVING TIME: 3h. 35' approx.
Stage 5 - FROM VITORIA-GASTEIZ TO LAGUARDIA
Is it possible to dive into a sea of vineyards? We'll have to try. Where? Rioja Alavesa. That's where we're headed.
There is a Basque Country far from the clichéd view, and today you'll get to know it. Are you ready to drive through wide dryland fields? Ready to discover a dolmen among sunflowers? And, are you ready to jump into a sea of vineyards? A walled town awaits you, as do wine tastings in underground wineries and the most surprising architecture in our land.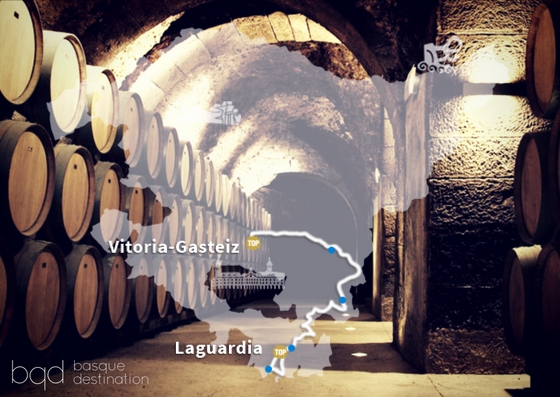 TOP PLACES
Vitoria-Gasteiz
Laguardia
DISTANCE: 130,5 kms.
APPROXIMATE DRIVING TIME: 2h. 50' approx.
Stage 6 - FROM LAGUARDIA TO ORDUÑA
Wishing the wine farewell, we'll head north to visit salt factories that are hundreds of years old, and mountains covered in delicious mushrooms. Agur! (goodbye in Basque)
It is not easy to leave Rioja Alavesa, not at all. To alleviate its memory, you'll enjoy a surprising panorama of the Ebro valley, discover a salty landscape and a couple of waterfalls to take your hat off to. You'll also see the source of a river that you first saw a few days ago: the Nervión, which meanders through the centre of Bilbao on its way to the sea.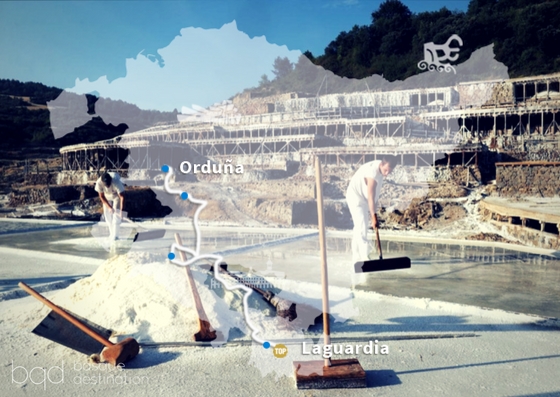 TOP PLACES
DISTANCE: 107 kms.
APPROXIMATE DRIVING TIME: 2h. 10' approx.
Stage 7 - FROM ORDUÑA TO BILBAO
From Santurtzi to Bilbao? (as the folk song says) Yes! Along the river? Nearly. But first, we'll discover some of the Basque Country's most noble stones and villages. That's right!
"El Botxo" (as Bilbao is also known) awaits you. But, beforehand, you'll visit the surface of a little-known corner of Bizkaia, Encartaciones, and also a deep valley that leaves its mark, that of Carranza. You'll see the sea again and yes, you'll finally be able to sing "From Santurce to Bilbao..." because today you're going to experience it for real. Just like that. All along the river bank. With your skirt tucked up? Who knows...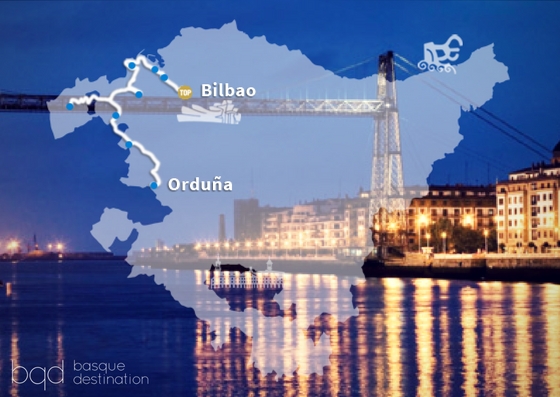 TOP PLACES
DISTANCECIA: 132,5 kms.
APPROXIMATE DRIVING TIME: 3h. 10' approx.
BEFORE GOING
With a private tour guide, the schedule, duration and activities can be adjusted to meet your needs. Please, provide any special requests you have.
Please note that this tour is a culture and food tour. But, you will get a pair of local snacks as well as a walk through the old quarter of San Sebastian in order to learn about the Basque culture and gastronomy. Please note that you will not receive a full meal.
CANCELLATION POLICY
Cancel up to 15 days in advance for a full refund
Cancellations between 15 days and 48 hours will be charged 50%
Cancellations 48 hours in advance will be charged 100%